The "Fast Track" Diploma Program That Rapidly Turns You Into an Elite-Level Certified Conversational Hypnotherapist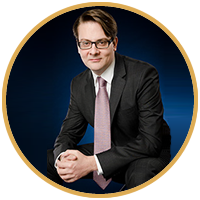 From the Desk of:
Igor Ledochowski
Master Hypnotist and Trainer
(Foremost authority on conversational hypnosis.)
Dear Reader,
Once you discover the conversational hypnosis system revealed in this advanced training, not only will you gain the ability to influence and transform others in any conversation…
You will also take on the FULL suite of skills, techniques and proven strategies to set up your own successful Conversational Hypnosis Practice so you can help others make profound changes in their lives - either in person or from the comfort of your own home.
Simply put, the Conversational Hypnotherapy Diploma Program gives you the confidence, tools and resources to take the next step in your professional development - whatever that might be for you.
All you have to do is ask yourself:
Where Do I Want To Be Six Months From Today?
Because if you want to…
Set up a hypnotherapy business and run it from anywhere in the world with a WiFi connection…
Enjoy complete freedom to decide when, where and how much you work…
Gain an in-demand skill with the opportunity to earn a comfortable living doing what you love…
Feel a genuine sense of fulfillment and passion guiding other people through the biggest challenges in their lives…
Learn new skills that empower you to build a life of complete control, confidence, and independence…
Meet other like-minded people from around the world who will support, inspire and motivate you…
Achieve a healthy work-life balance with time and energy at the end of the day to spend quality time with loved ones, pursue a hobby, or simply relax and recharge…
Earn respect and recognition in your community for the positive work you do…
Then the Conversational Hypnotherapy Diploma Program is the "fast-track" system that will take you from where you are now, to where you want to go.
In fact, here's a quick video that explains exactly how this exciting opportunity can transform your life in just a few short months:
In short, it doesn't matter if you're…
A total newbie with ZERO hypnosis experience
Seeking an exciting and fulfilling career change
An established hypnotist aiming to refine your craft and dramatically improve your skills
A forward-thinking professional looking to gain edge by leveraging the power of hypnosis in your current career…
With the Conversational Hypnotherapy Diploma Program you'll master a brand new form of Hypnotherapy through a unique blend of theoretical knowledge and hands-on practice that you can easily learn and apply regardless of your previous experience or qualifications.
So, what exactly does this in-depth program cover?
Here's a quick break down of what you can expect to master in just 6 to 12 months:
The Hypnosis Skills Training Course
Dive into the foundations of Conversational Hypnotherapy to gain a versatile toolkit for facilitating change in others while building your confidence, influence and communication skills.
Gain a toolkit of advanced techniques that allow you to access and transform subconscious beliefs leading to positive behavioral change, as well as greater personal influence.
Every module contains training, demonstrations, and hands-on exercises designed to build on each other, ensuring a seamless progression of learning.
Get hands-on experience by practicing with fellow students and gaining real-time feedback so you can continuously improve your skills.
Applied Conversational Hypnosis Skills Course
Find out how to establish the optimal context for conversational hypnosis so you can create fast, effective and lasting transformations in others.
Discover how to bypass natural defenses during communication, paving the way for effective hypnotic change work in the span of seemingly ordinary conversations.
Develop the skills to ethically inspire others to want to work with you and hire you for your hypnosis and hypnotherapy services.
Get real-time feedback from fellow students and trainers through frequent practice sessions.
Professional Skills Coaching Course
Discover the specific steps you can take to establish professional contacts and relationships, crucial for business growth and positioning yourself as a respected and successful hypnotist in your community.
This foundational course gives you a reliable system for gaining a professional foothold in the world of hypnosis.
Master the art of networking, creating professional contacts, and building lasting relationships within your community.
Gain a toolkit that will prepare you to navigate and overcome potential obstacles in your professional journey as a hypnotist.
And Since My Goal Is To Ensure Your Success Throughout The Program You Will Also Get:
Daily Q&A & Practice with Experienced Hypnosis Trainers
The experienced hypnosis trainers will be available to speak with you to answer your questions, arrange practice partners for you or even help you get past your sticking points in any aspect of hypnosis.
No longer will you have to wait months or years to attend a live training seminar or workshop in the hope that they might help you progress past your sticking points.
Now you will be able to speak to a trainer and get their personalized attention to ask them anything you want related to hypnosis or setting up a hypnosis practice – and they will draw upon their experience to help you out to the best of their ability.
And if they don't personally know the answer to your question, you can be sure they can connect you up with someone who does because you'll also have…
Unlimited 1-2-1 LIVE Practice With Your Peers!
Engage in voice and video sessions to connect with peers for live practice, allowing consistent, growth-oriented hypnosis practice.
Confidence and success with hypnosis comes from consistent practice, and now you'll have access to fellow hypnotists around the world to hone your skills, get valuable feedback and learn to apply the techniques you learn in the real world.
And since live online or offline workshop-style trainings are a key ingredient on your way to becoming a major force and major talent in the world of hypnosis, when you've enrolled into the prestigious Conversational Hypnotherapy Diploma Program you also get …
Free Access to the 6-Day Live Online Conversational Hypnosis Professional Hypnotherapy Training Program
People who've been to a Hypnosis Training Academy Live Certification Training know that we cannot certify anyone in hypnotherapy without a live online or offline training where we can assess your hypnosis skills in action.
And as a student enrolled in the Conversational Hypnotherapy Diploma School you will have complimentary access to this foundational live training certification.
Needless to say, this will take your relationships within the hypnosis community to a whole new level. I wouldn't be surprised if you make contacts and friendships for life at the live hypnosis trainings.
Ready to take the next step?
Sign up to speak with one of our hypnosis advisors to find out how you can enroll in the Conversational Hypnotherapy Diploma Program:
But wait, it gets better still….
Because once you sign up for the program you'll also get access to a number of exciting BONUS trainings:
BONUS 1: The Mind Training Skills Course
This groundbreaking and best-selling training leverages neuroscience and hypnosis to provide daily support for your unconscious mind for the entire duration of the course to keep you motivated and inspired.
Each Hypnotic Meditation blends hypnosis, mindfulness, neuroscience, and neuroplasticity for a potent mind-training program so you experience a mental transformation that will "rewire" your mind to take on the skills, attitudes and intuition of a world-class hypnotist.
Simply put…
You'll Know What To Do In A Hypnosis Session Before "You" Know What To Do!
Your unconscious and your intuition will guide you into doing and saying the right thing whenever you do hypnosis.
That's the level you must get to IF you want to be considered a major force and major talent in the world of hypnosis and the Daily Mind Training audios are the most direct way to develop your body-brain intuitive connection and thus, it will add to your success and effectiveness as a hypnotist and IN EVERY AREA OF YOUR LIFE!
BONUS 2: Conversational Hypnosis Professional Hypnotherapy 3.0 – New modules unlock every week over the first 6 weeks.
This foundational training covers the basics of conversational hypnotherapy from instant inductions to hypnotic regressions. Use this training to brush up on essential skills, refresh core concepts and jump start your progress.
Discover the 4-Step Hypnotic System you can apply in professional settings, or even during ordinary conversations for fast and effective change-work.
Master powerful language patterns to create hypnotic contexts and induce irresistible trance states.
Find out how to conduct a hypnotherapy session - from start to finish - working with a range of issues and real-life scenarios.
BONUS 3: Practice Hypnosis Without Fear
Discover how to dissolve your fears and doubts associated with practicing hypnosis so you can use your skills to help more people make profound changes in their lives.
Tools and techniques to help you eliminate performance anxiety, and get rid of the fear of doing hypnosis.
Attract potential hypnotic subjects by dissolving skepticism and mastering the art of capturing someone's attention and directing it where you want it to go.
Learn to subtly bypass the conscious mind to deliver empowering suggestions to the unconscious… with in-depth demonstrations showing you exactly how to use these techniques!
BONUS 4: Secrets of Hypnosis Revealed
Gain the confidence to predictably hypnotize anyone, in any situation - even if you have no previous experience in hypnosis. Dive into the foundational elements of hypnosis, its therapeutic potential, and key techniques for effective application.
Master the art of suggestion to influence behavior, leveraging the profound impact of language and thought experiments.
Equip yourself with strategies to make your inductions more vivid and experience the transformative "60 Second Hypnotist" exercise.
Explore the psychological intricacies of people's expectations, the purpose of hypnotic "pretalk", and how to prime the unconscious mind for effective hypnotic experiences.
BONUS 5: Hypnotic Language Shortcut System Deck
Quickly master hypnotic language with this card deck containing 70 cards with specific words and phrases you can seamlessly weave into your conversations for greater influence and rapport.
Each card also comes with examples so you easily understand how to use each hypnotic word or phrase when you're speaking or writing.
Find out how to speak directly to the unconscious mind and piggyback suggestions onto your words.
Learn to capture anyone's attention and direct it where YOU want it to go.
BONUS 6: Hypnosis & Stress - Full PDF Transcript
Find out how to apply advanced hypnosis techniques to help yourself and others relieve stress and reduce anxiety.
Understand different types of stress and its impact on physical, mental and emotional well-being.
Discover effective hypnosis methods for stress management and deep relaxation.
How to work with the unconscious mind to break negative thought patterns and create healthier reactions to stress triggers.
BONUS 7: Hypnosis & Sleep/Insomnia - Full PDF Transcript
Gain a comprehensive look at how hypnosis can be applied to improve sleep quality, and overcome insomnia.
What you should know as a hypnotist before working with clients struggling with sleep-related problems.
How to apply specific hypnosis techniques to optimize sleep cycles.
Using hypnosis to create deep relaxation and calm the mind and body before sleep.
BONUS 8: How to Make a Lot of Money with Hypnosis Masterclass (Delivered on Week 13)
Smoking cessation sessions are one of the easiest ways to make money with your hypnosis skills. This masterclass is packed with information on how to run a stop smoking hypnotherapy business, including the therapy itself.
How to set yourself up for success before your client walks through the door.
How to conduct a smoking cessation session from start to finish and get results every time.
The simple system you can use to attract a steady stream of clients to your hypnosis practice.
BONUS 9: Hypnotic Journeys Group Programs Masterclass (Delivered on Week 13)
Discover how to run profitable group packages delivering Hypnotic Journeys that will fill up your hypnotherapy practice with one-on-one clients without having to rely on overt promotion.
How to create a safe and comfortable environment for people to sample what you can do with hypnosis, and how it might help them in their lives.
How to manage the dynamics of a large group and create a personalized experience for each individual member.
The all-important 4-step process of putting together a seamless group session experience.
As you can see, once you join this exciting program, you'll be equipped with all the tools and resources you'll need to set your life on an exciting new trajectory.
So don't wait and seize this exciting opportunity to book a FREE discovery call and find out how you can join the Conversational Hypnotherapy Diploma Program today:
Here's another way to think about it:
In just 6 months, you could be ready to set up and run your own Conversational Hypnotherapy Practice - in person, or online.
Unlike most hypnotherapy training curriculums that take years, this optimized method elevates you into a highly competent practitioner in just a fraction of the usual time.
That's right! This accelerated program is designed to equip you with everything you need to hit the ground running, so you can start practicing—and profiting—sooner rather than later.
So, if you're ready to make an investment in your future that can bring you greater freedom, fulfillment, and financial security, then take the first step and book a call to find out how to secure your spot!
Please Note: Spots Are LIMITED and are allocated on a first-come, first-served basis, so don't wait and book your call today to find out if the Conversational Hypnotherapy Diploma Program is right for you.
P.S. Check Out What Some Of Our Happy Graduates Have To Say…